Lookah Unicorn Wax Vaporizer
£189.99
Description
Lookah Unicorn Wax Vaporizer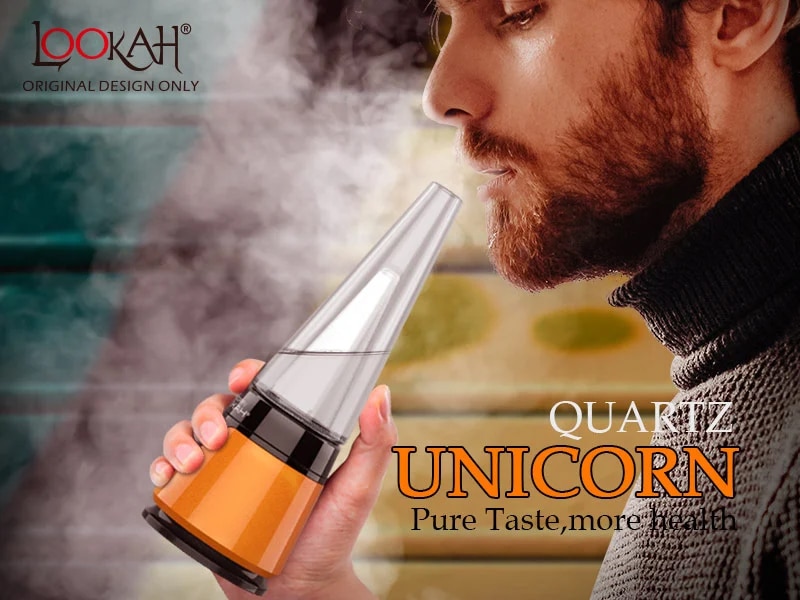 The Lookah Unicorn Wax Vaporizer is quite simply the next generation of wax vaporizers. This portable e-rig provides the most efficient and enjoyable dabbing experience. Designed and developed in house with the revolutionary atomizer and magnetic connection. Wax connoisseurs will love its design, which preserves full flavour and is easy to use at home or on the go.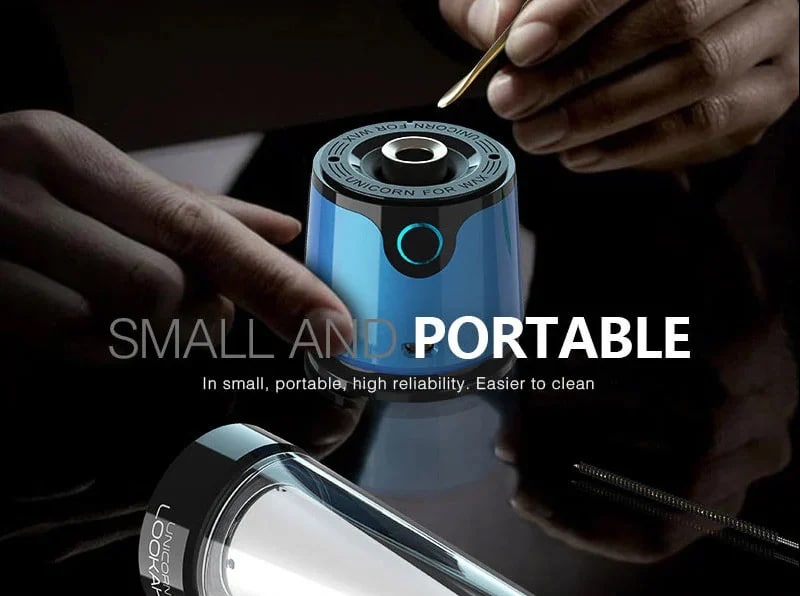 Using a porous quartz core in a ceramic cup the Lookah Unicon Wax Vaporizer produces fast heat-up times and the purest flavour. Compared to the 3 minute heating and cooling process with a traditional dab rig and torch, the Unicorn e-rig heats up in seconds.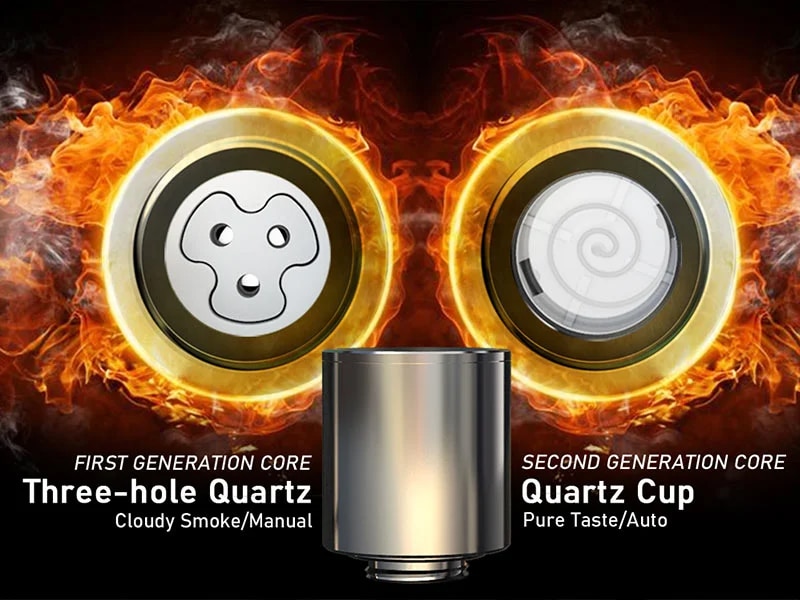 Quartz also preserves a pure taste so you won't lose any flavour with this magnificent device.
With unrivalled efficiency of the quartz core atomizer gets the most from the 1900mAh battery. This allows you to take loads of dabs from a full charge. With three coils evenly spaced across the core of the atomizer, the even heat distribution ensures good vaporization, maximizing the vapor produced.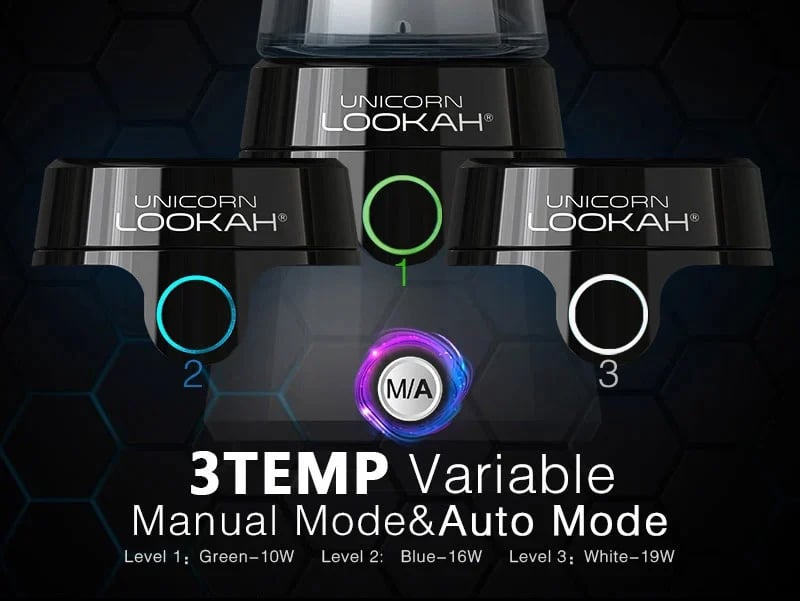 The replaceable glass cone from where the Lookah Unicorn gets its name sits snugly in a silicone dish. The water cone is made from thick borosilicate glass. This percolator filters the vapor allowing you to take big vapes. A silicon mouthpiece tip helps prevent spillage from the glass percolator. The Unicorn's top and bottom are held in place by a powerful magnet providing a convenient and elegant solution to loading the cup.  With three temperature settings, a preheat automatic mode, and on-demand heating, you can dab whichever way suits your needs.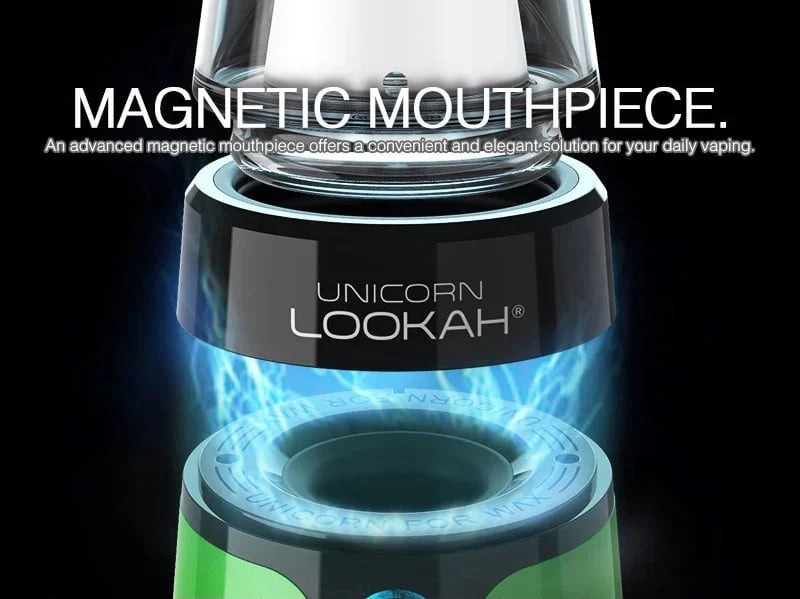 How To Use:
The Unicorn electric wax rig is switched on by pressing the power button five (5) times in quick succession. From there, it's easy to set the temperature with a double click, cycling through low 3.3V (green), medium 3.6V (blue), and high 4.2V (white) temperature modes. Three clicks start the preheat and an automatic mode, indicated with a flashing LED and two (2) vibrations. Once heated to the set temperature, you can enjoy up to 60s worth of dabbing.
The Unicorn electric rig has an LED light ring around the power button, this discreet light provides battery and heat cycle information as needed. The haptic feedback (Vibration) keeps timing on point, alerting you when the preheat and auto heating cycles are ready, ensuring a perfect hit.
Lookah Unicorn Wax Vaporizer Features:
Revolutionary Magnetic Connection
Quick Connect Percolators with Airflow Control
RGB Light Information and Haptic Feedback
Built-in Over Voltage and Short Circuit Protection
Easy to Clean Design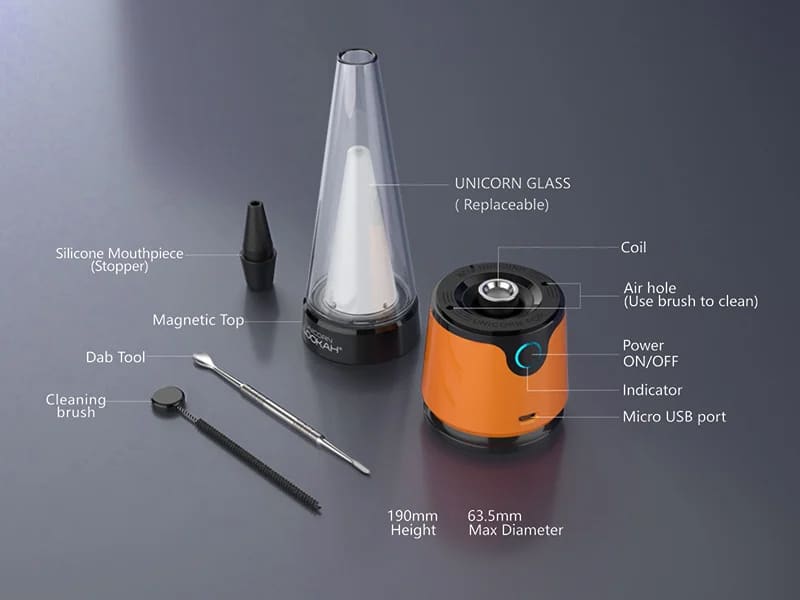 What's In The Box?
Unicorn Electric Dab Rig Base
Magnetic Top with Unicorn Glass Percolator
Mouthpiece Tip Stopper
2 Atomizer Coils
Dab Tool
Cleaning Brush
USB Cable
User Manual
CAN BE USED WITH CBD WAX | CANNOT BE USED WITH E LIQUIDS.